Blog
There are a ton of questions that travel bloggers can easily answer when someone asks them about something. How to get there. Where's the best place to stay. What to do in a particular destination. However, if you want them to stop dead in their tracks and give them a hard time, just ask this: what's your favorite place?
That's exactly what this article is all about. We've compiled a list of some of the most beautiful beaches in the Philippines, according to some of the known bloggers in the country. While it may be a hard choice for them with so many to choose from, they do consider a couple of things before they label a destination their favorite — the landscape as well as personal experiences being among these.
Calaguas, Camarines Norte
Image Source: https://two2travel.com/?attachment_id=2422
Freckling the waters off the coast of Vinzons, Camarines Norte, the Calaguas group of islands hide a few pretty secrets. However, in recent years, they've been discovered by more beach bums who all fell love with the place. Blogger Angel Juarez (aka Lakwatsero) is one of them.
"Mahabang Buhangin is a perfect paradise with its long stretch of fine white sand dotted with volcanic rocks on its both ends," Juarez describes. He further added that the place is the most frequented camping and swimming site, making it a top choice for tourists.
Port Barton, Palawan
Image Source: https://www.youtube.com/watch?v=73zyG_X9VQs
Although not as famous as El Nido and Puerto Princesa, San Vicente is nothing short of stellar. This relatively low profile is what makes Port Barton appealing to some travelers. Its forests are undisturbed, its shores practically untouched. It may be the reason why Port Barton, one of its 10 Barangays, is the top choice for Edgar Alan.
"It has supple sands hugged by jungle-clad mountains, turquoise waters and the lovely coral gardens where turtles and others marine animals cruise, framed by the sapphire-skis and the honey-colored sunsets," recalls Alan. He further adds that this is an idyllic beach retreat that no one can ever match.
Naked Island, Siargao
Image Source: https://chasingculprit.blogspot.com/2017/12/naked-island-in-siargao.html
It's time to get naked — not literally anyway. Blogger Harry Balais states says this about our next entry, Naked Island. "In the vastness of the Pacific Ocean off the coast of Lianga Bay in Surigao del Sur is an island that's incomparable to its neighbors in Britania Group of Islands."
Naked Island is made up of a long white sand bar that's completely free of trees or any infrastructures. Here, you can get lost in the horizon during or near high tides.
Subic Beach, Sorsogon
Image Source:
https://www.choosephilippines.com/go/islands-and-beaches/403/subic-beach-matnog-sorsogon-bicol
Of the miles and miles of shorelines he has seen, Owen is pretty much convinced that Subic Beach is his top choice. Hanging on an edge of Calintaan Island in Matnog, Sorsogon, Subic Beach looks just like your ordinary Philippine beach at first glance. The white coral sand, the swaying palms not to mention the clear waters are an awesome sight to behold.
Among all the most beautiful beaches in the Philippines, this has to be the most beautiful of them all, says Owen. As a matter of fact, the place is so beautiful that you may think of a number of cliché ways to describe the beach as you walk the length of the shore, looking for things that beach-goers are wont to look for.
One of the top reasons why tourists from different corners of the world go to the Philippines is because of the beautiful beaches that can be found in more than 7,000 islands in the archipelago. No other country can boast of having multiple islands that have white sand beaches.
If you're planning one or more Philippine beach holidays so you can enjoy these destinations, there are several truly stunning beaches that should be on your list of must-visit beaches in this tropical country.
Boracay Island, Aklan
Image Source: https://www.rappler.com/nation/215180-boracay-now-open-october-26-2018
This small island off the coast of Aklan is without a doubt one of the most popular beach destinations in the country. Known for its powdery white sand, it's become a popular destination for locals and foreigners alike due to the opportunity to hang out with brand new people.
With a cornucopia of resorts, establishments and hotels catering to a wide array of tastes and budgets, there are a ton of things you can do in Boracay. You can try out scuba diving, book a spa treatment or just lounge on the beach. The nightlife here is vibrant, too.
El Nido, Palawan
Image Source:
https://www.tripadvisor.com.ph/LocationPhotoDirectLink-g294256-d3842169-i172238378-Big_Lagoon-El_Nido_Palawan_Island_Palawan_Province_Mimaropa.html
In polls and in surveys, El Nido is starting to catch up to Boracay as the go-to beach for Filipinos — and for a good reason.
El Nido's biggest selling point is its dynamic marine wildlife and ecosystem, both of which have been barely affected by the rising number of tourists. The local government of El Nido should be applauded for their commitment to protecting the island's flora and fauna.
Samal Island
Image Source: https://www.samal-island.com/
Samal Island is considered one of the rising stars in the Philippine beach industry. With a total of 118 kilometers of white and pink sand, you'll be hard-pressed to find any complaints among tourists.
The turquoise waters and the verdant greenery aren't the only reasons why tourists visit the island. There are also a couple of beautiful and interesting rock formations and shoals on the coast that you can take pictures of.
Bantayan Island, Cebu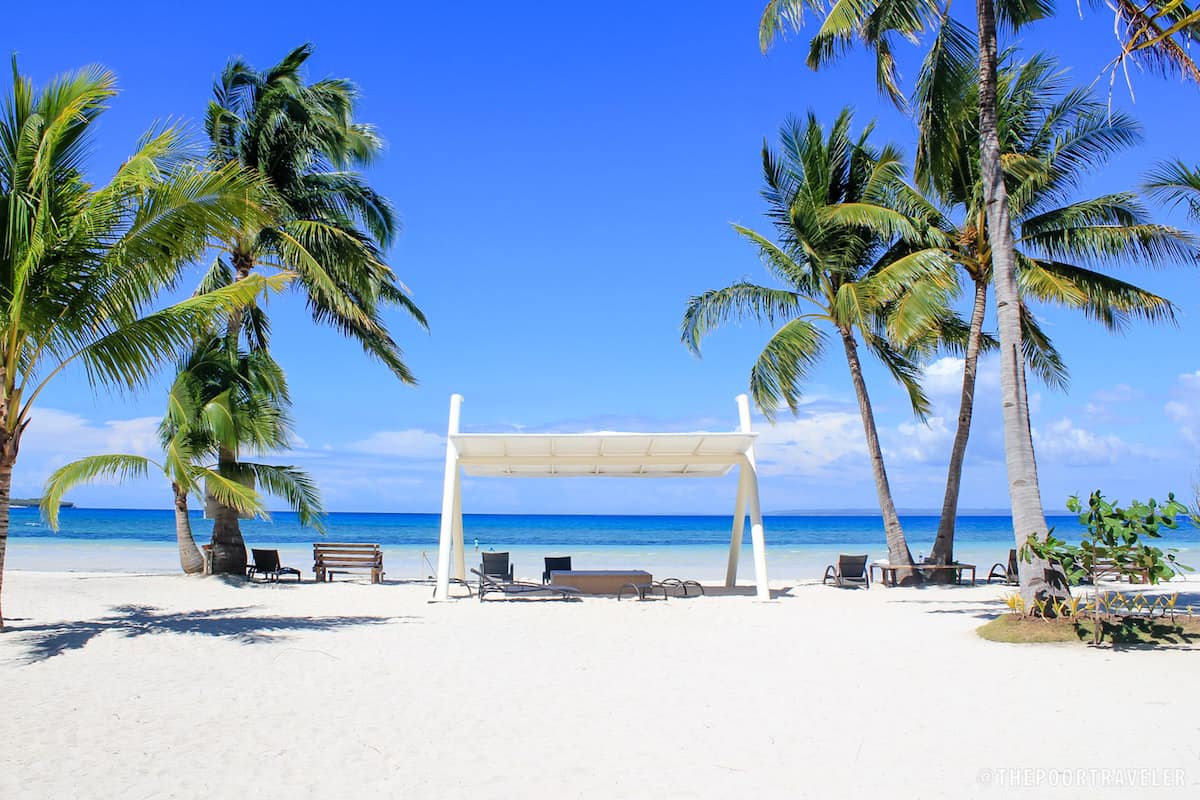 Image Source: https://www.thepoortraveler.net/2017/09/bantayan-island-cebu-itinerary/
Cebu is the most visited island in the Philippines, especially by those who are from the neighboring ASEAN countries. This is mostly because of the amazing beaches that can be found all around the island. However, Bantayan rises to the top as it's comparable to how Boracay was like a couple of years back.
Bantayan is the ideal place for you to go to if you want a place that's accessible without being too crowded. While there are hotel accommodations close by, it's far enough from urban living that you can relax for a day or two without feeling like you're in the city, all while taking in beautiful views.
Panglao Island, Bohol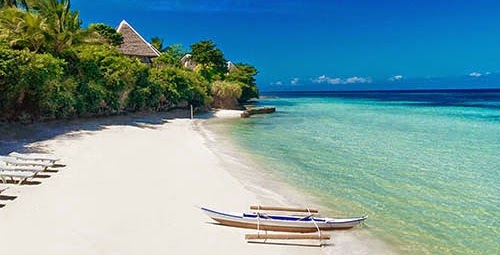 Image Source: https://www.bohol-philippines.com/panglao-town.html
Panglao Island was virtually unknown to beach lovers worldwide until a couple of years ago. Now, not only is its proximity to other tourist destinations bringing in more interested people, but its beaches are also gaining prominence thanks to the white sand, aquatic attractions, and coral formations.
This island is also a refuge for retirees from other parts of the world. Because of this, it's normal to meet a native of Panglao who can speak German, French, or Japanese without much of a problem. This is part of what makes it truly one of best beach holidays Philippines destinations in the country.