From the Blog
One of the top reasons why tourists from different corners of the world go to the Philippines is because of the beautiful beaches that can be found in more than 7,000 islands in the archipelago. No other country can boast of having multiple islands that have white sand beaches.
If you're planning one or more Philippine beach holidays so you can enjoy these destinations, there are several truly stunning beaches that should be on your list of must-visit beaches in this tropical country.
Boracay Island, Aklan
Image Source: https://www.rappler.com/nation/215180-boracay-now-open-october-26-2018
This small island off the coast of Aklan is without a doubt one of the most popular beach destinations in the country. Known for its powdery white sand, it's become a popular destination for locals and foreigners alike due to the opportunity to hang out with brand new people.
With a cornucopia of resorts, establishments and hotels catering to a wide array of tastes and budgets, there are a ton of things you can do in Boracay. You can try out scuba diving, book a spa treatment or just lounge on the beach. The nightlife here is vibrant, too.
El Nido, Palawan
Image Source:
https://www.tripadvisor.com.ph/LocationPhotoDirectLink-g294256-d3842169-i172238378-Big_Lagoon-El_Nido_Palawan_Island_Palawan_Province_Mimaropa.html
In polls and in surveys, El Nido is starting to catch up to Boracay as the go-to beach for Filipinos — and for a good reason.
El Nido's biggest selling point is its dynamic marine wildlife and ecosystem, both of which have been barely affected by the rising number of tourists. The local government of El Nido should be applauded for their commitment to protecting the island's flora and fauna.
Samal Island
Image Source: https://www.samal-island.com/
Samal Island is considered one of the rising stars in the Philippine beach industry. With a total of 118 kilometers of white and pink sand, you'll be hard-pressed to find any complaints among tourists.
The turquoise waters and the verdant greenery aren't the only reasons why tourists visit the island. There are also a couple of beautiful and interesting rock formations and shoals on the coast that you can take pictures of.
Bantayan Island, Cebu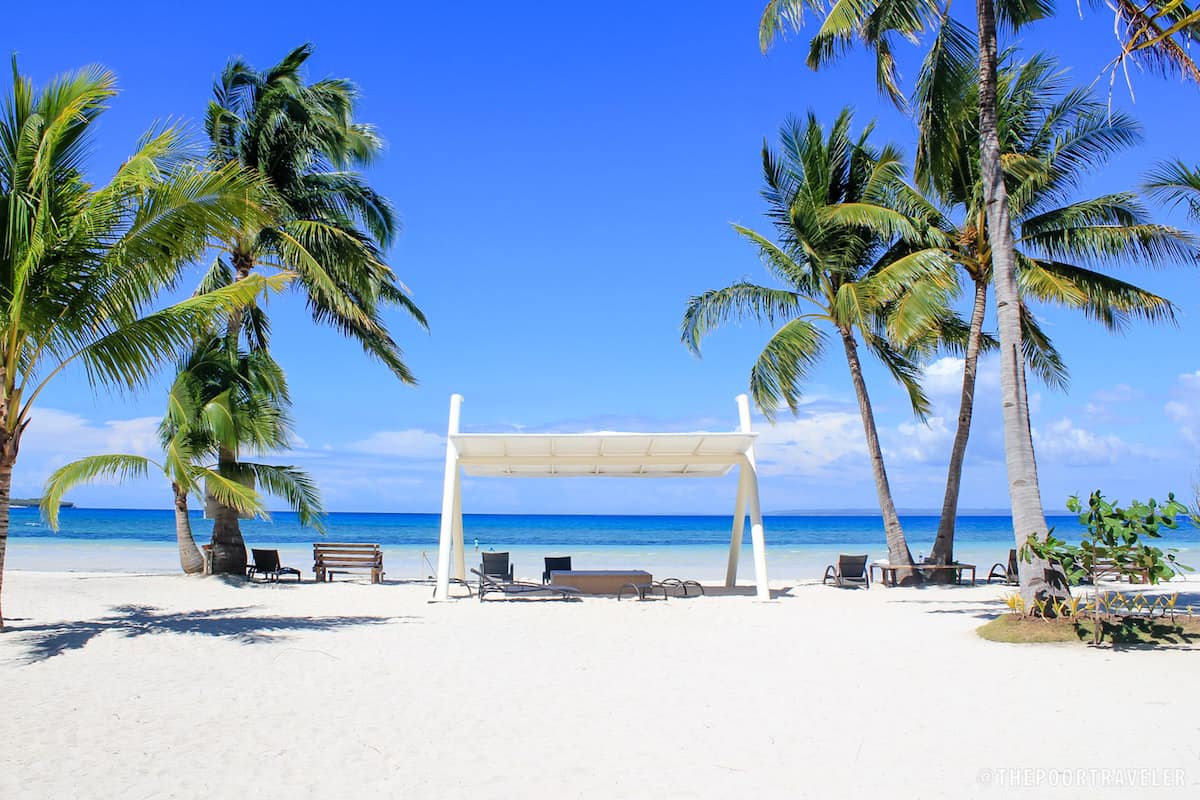 Image Source: https://www.thepoortraveler.net/2017/09/bantayan-island-cebu-itinerary/
Cebu is the most visited island in the Philippines, especially by those who are from the neighboring ASEAN countries. This is mostly because of the amazing beaches that can be found all around the island. However, Bantayan rises to the top as it's comparable to how Boracay was like a couple of years back.
Bantayan is the ideal place for you to go to if you want a place that's accessible without being too crowded. While there are hotel accommodations close by, it's far enough from urban living that you can relax for a day or two without feeling like you're in the city, all while taking in beautiful views.
Panglao Island, Bohol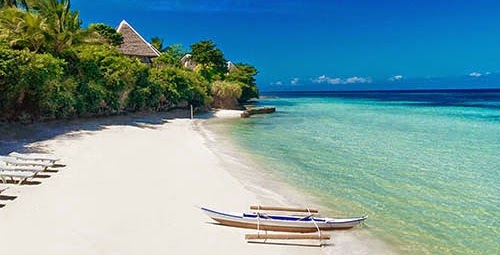 Image Source: https://www.bohol-philippines.com/panglao-town.html
Panglao Island was virtually unknown to beach lovers worldwide until a couple of years ago. Now, not only is its proximity to other tourist destinations bringing in more interested people, but its beaches are also gaining prominence thanks to the white sand, aquatic attractions, and coral formations.
This island is also a refuge for retirees from other parts of the world. Because of this, it's normal to meet a native of Panglao who can speak German, French, or Japanese without much of a problem. This is part of what makes it truly one of best beach holidays Philippines destinations in the country.
With more than 7,000 beautiful islands to choose from, planning a trip to the Philippines in 2019 can be a rather daunting and mind-boggling experience for any traveler. From the breathtaking, idyllic rolling hills of Batanes to the gorgeous cascades of Lake Sebu, the Philippines has an abundance of awe-inspiring destinations that are worthy of any traveler's bucket list.
Whether you're a history buff or a beach bum, you'll find your bliss as well ignite your innate sense of wanderlust in the Philippines. That said, to help you with your Philippine beach holidays plans this 2019, we've rounded up some of the best and most noteworthy places to visit in the Philippines.
Even though setting foot on all of the 7,641 islands in a single year is an incredibly tall order, this list of places to visit will at least give you some inspiration and a good start to your adventure.
Huma Island, Palawan
If you want to take a break from the crowded cities and places to visit in the Philippines, then you should go for a luxurious getaway at Huma Island — a heavenly refuge full of indulgence and adventure.
Nestled in the majestically stunning turquoise waters of Palawan, this one-of-a-kind Maldivian-inspired resort beckons to weary people who are longing for a tropical escape and a personalized Zen-like experience of exploration and discovery.
Camiguin
Image Source: https://www.thephilippines.com
Known as the "Island Born of Fire", Camiguin is a fascinating island-province brimming with volcanoes such as Mount Uhay, Mount Hibok-Hibok, Mount Vulcan and Mount Mambajao. As a matter of fact, Camiguin holds the world record for the island with the most volcanoes for every square kilometer.
However, make no mistake — there's more to this small Philippine province than its volcanic riches. After all, it's a secluded destination that boasts a myriad of natural wonders, including refreshing waterfalls, cold and hot springs, and an untouched sand bar.
Tubbataha Reefs Natural Park
Image Source: https://whlovers.com/tubbataha-reefs-natural-park/
If scuba diving is your thing, then make sure to book a trip to Tubbataha Reefs Natural Park.
Billed as one of the world's best diving sites, this wonderful aquatic world is a protected sanctuary that serves as a home to vibrant coral reefs, the endangered hawksbill sea turtles, sharks, lionfish, clownfish, sea turtles and manta rays. Inscribed by UNESCO as a World Heritage Site, Tubbataha is a sanctuary to dozens of bird species as well.
Manjuyod Sandbar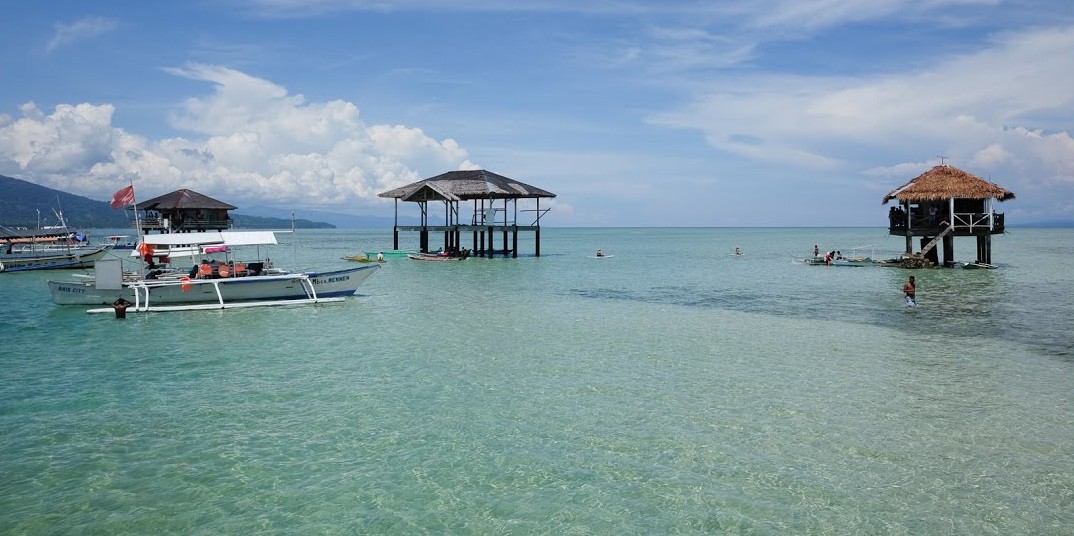 Image Source: https://www.manjuyodsandbar.com/blog/manjuyod-sandbar-from-cebu
The Manjuyod Sandbar isn't dubbed as the "Maldives of the Philippines" for nothing. With its clear waters and a stretch of majestic white sands, this enthralling sandbar will definitely make you feel that you're standing in one of the premier beach destinations in the world.
Furthermore, it has cottages that seem like they're floating on blue shallow waters, adding more flavor and Maldivian atmosphere to this sandbar.
There you have it. These are just some of the best beach holidays Philippines destinations you can consider visiting this coming 2019. Of course, you should never charge into battle unprepared. Thus, plan carefully for your trips and don't forget to bring a bottle of sunscreen with you.